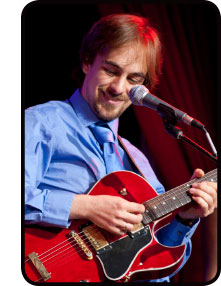 Although still in his 20's, PJ Rasmussen (@PJRasmussenJazz) has been featured on the cover of Hot House Jazz magazine, described by the legendary Bucky Pizzarelli as a "damn good guitarist," headlined at the Four Seasons restaurant in New York, and landed two albums on the jazz charts. He believes jazz is music that should make the heart race, the blood pump, and the feet move. Towards that end, Rasmussen founded Boardwalk Jazz, a show built on the simple belief that jazz is music anyone can love. PJ and his 21 piece Boardwalk Jazz band are regular features at the City Winery in NYC.
Born in 1990, Rasmussen entered a world where jazz seemed reserved more for intellectuals than real people. Picking up the guitar at age 10, he spent more time learning Stevie Ray Vaughan and Eric Clapton than working his way through the Real Book. While his passion for rock and blues never waned, his eclectic taste and exploratory spirit never stopped looking for new music to learn; soon enough he was practicing Joe Pass and Yardbird alongside Slowhand, under the watchful eye of Andrew Light. A great guitarist in his own right, Andrew introduced PJ to the wide world of jazz. He has never looked back, studying Jazz Performance at William Patterson University as well as with performers like Bucky Pizzarelli, Paul Meyers, and Gene Bertoncini.
PJ is also a busy composer, and he brings together his diverse musical background in surprising ways. In addition to his work with the Boardwalk Jazz Band, he has also written for the NY theater. In "The Gambler," based on the gripping novel by Dostoyevsky, Rasmussen was asked to bring together styles as diverse as classical string quartet, tango, 1960's post bop and funk. In "L'illusion Comique," he was commissioned for charts that included classic ragtime and orchestral scores that demonstrated "Tim Burton's version of 1916 New Orleans." The show visited New Orleans itself as part of it's annual "Fringe Festival" in November of 2012.