Here, see the complete list of musicians who make up the Boardwalk Jazz band. The band has about 30 regular members, 21 of whom take part in any given show. See the current season's performers below, or scroll to see performers from the original 2014 performances!
Vocalists: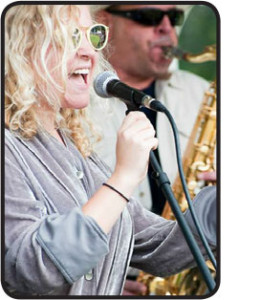 Kate Victor
Connecticut vocalist, cellist, and pianist Kate Victor has worked in a myriad of musical settings, including choirs, orchestra, jazz band, a Capella groups, and musical theatre. She is currently very active with several groups in the New York metropolitan area, playing cello and singing in Soundsketch, an Armenian-jazz influenced septet, the YY sisters, a madrigal/folk vocal group, and Loren Beri, an orchestral pop band based in Brooklyn.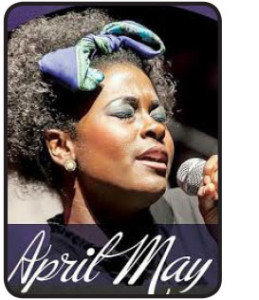 April May:
Kansas native April May has been relentlessly performing in her own group Sounds of A&R, a collaborative jazz duo consisting of herself and jazz trumpeter Randall Haywood, whose recent single "Horizon" peaked at #17 on The Billboard Contemporary Jazz charts in 2015. She has also been performing and collaborating with other artists such Winard Harper, Kool & The Gang's the late Clifford Adams, and Billboard's Contemporary top five group The JT Project.

Candice Reyes
Texas native and award-winning vocalist Candice Reyes released her first album "Crossing Over" in 2013, and has worked with Grammy winning artists like Dave Pietro and two time Grammy nominee Mack Goldsbury, among others. Her eclectic tastes also led to work with the El Paso Symphony. She currently lives in NJ and leads her own quintet, and is a faculty member for Jazz House Kids, a program dedicated to helping youth discover the joy of jazz.

---
Trumpets:

Paul Tafoya:
Paul is an award-winning trumpeter and composer who has  traveled the world recording and/or performing with legends like Christian McBride, Christian Sands, Ulysses Owens Jr. Jerry Weldon, Eddie Barbash, Jon Batiste and Gary Bartz, among many others. Tafoya is a Marine Corps Pacific Band "Marine Musician of the Year" and Disney alumni, playing with Magic Kingdom Orlando's Main Street Philharmonic before moving to New York City in 2013. Paul also fronts his own group, writing and performing music with his band "HumanHood."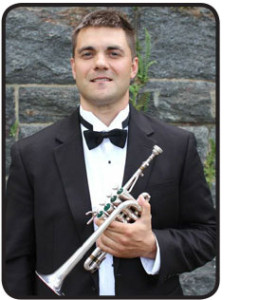 Ben Hankle:
Ben played trumpet on PJ's second release, Another Adventure. His career has included Broadway, jazz, and orchestral performances, and he has performed and/or recorded with artists like Milt Hinton, Arturo Sandoval, Louie Bellson, Barry Manilow, Gladys Knight, The Osmonds, Phil Smith, John Hendricks, Tierney Sutton, Bob Mintzer, Charles McPherson, Rufus Reid, Slide Hampton, Wynton Marsalis and others.
Ben currently subs in the hit Broadway musical "Chicago," and leads his own quartet.


Ryan Resky:
Ryan has been a professional trumpet player in NYC since 1999, subbing on Broadway as well as playing for the Radio City Christmas Spectacular. He has been seen and heard on national television for special events including the Belmont Stakes, playing this last year for the Triple Crown.

Rich Polatchek:
Richard Polatchek is a versatile trumpet player and flugelhornist based out of Jersey City. In addition to leading his own quartet, he is a regular member of the Boardwalk Jazz Big Band,  and the lead trumpeter for Funktion 11, a funk band from Red Bank, New Jersey. He is also a regular with the Big Beat big band, and Pat Van Dyke.
---
Trombones:

Seth Weaver: 
Seth Weaver is an award-winning trombonist, vocalist, composer, arranger and educator based in New York City. He received his Master's from the prestigious Manhattan School of Music in 2015. He regularly performs all over New York City, and leads his own successful big band, performing at Zinc Bar, Bonifide, The Iridium, Shapeshifter Lab, and most recently at the APAP Jazz Showcase in Manhattan. Seth is also a dedicated educator, and is on faculty at the Larchmont School of Music.
Peter Nelson:

Trombonist Peter Nelson brings clarity and a warm sound to the NYC music scene. Having performed with jazz luminaries such as Orrin Evans, Benny Golson, Jamie Cullum, and John Hendricks, Nelson has consistently proven himself as a young artist to keep an eye on. Born in Lansing, MI., he got his start studying and playing with renowned bassist, Rodney Whitaker. Along with leading his quartet around NYC, Nelson also keeps busy as an active composer/arranger.

Collin Banks:

Collin Banks is a trombonist, composer, arranger and educator who is dedicated to the jazz heritage. During his time at William Paterson University, Collin had the opportunity to perform with jazz legends such as Benny Golson, Phil Woods, Mulgrew Miller, and Jimmy Heath. Collin plays regularly with PJ Rasmussen's Boardwalk Jazz Band and Big Beat, based out of New Jersey. Collin maintains a busy schedule playing and teaching in the North Jersey and NYC areas.

James Borowski:
James Borowski is a freelance trombonist and bass trombonist in New York City. He performs regularly as bass trombonist with the Birdland Big Band and is also principal bass trombonist of the Princeton Brass Band. A graduate of the Mason Gross School of the Arts doctoral program, Dr. Borowski is an eclectic performer who can be found in orchestras, big bands chamber ensembles, even rock and roll. Most recently, James has been a part of Michael Feinstein's big band performances in New York.
---
Saxophones:

Andrew Hadro:
    Andrew Hadro has performed around the US and Europe with the Duke Ellington Orchestra, James Moody, the Bjorkestra, Tony Malaby, Chico Hamilton, and Junior Mance, among many others. He is active in the New York music scene and involved in several projects including performances with his own groups. He is a director of the Litchfield Jazz Camp, maintains an active private lesson studio, and works as a Product Specialist for Vandoren. He is also currently the curator of JazzBariSax.com, a website dedicated to the baritone saxophone.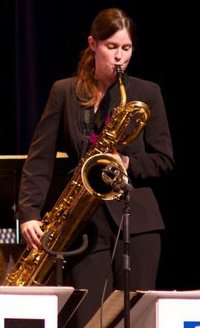 Mercedes Beckman:
Saxophonist/multi-instrumentalist/composer Mercedes Beckman has performed in every facet of jazz, as well as indie rock, Peruvian music and more.  She has performed at several of NYC's finest venues, including stints in LA, Portugal and the Netherlands.  Mercedes was mentored by jazz master Bunky Green at the University of North Florida and then went on to complete her master's degree at the Manhattan School of Music as a Grusin/Rosen jazz scholar.

Matt Woroshyl:
Matt is a Canadian-born saxophonist, woodwind specialist, bandleader, educator, and composer. He has performed with Wycliffe  Gordon, Eric Marienthal, Dave Liebman, Donny McCaslin, Tim Ries, Rich Perry, the Jamie Cullum Big Band and others, performing at the many of New York's finest clubs. He has also played the Sitka Jazz Festival and the Toronto Jazz Festival. Matt is a faculty member of the New York Jazz Workshop and has given clinics throughout Canada and the United States.

D

ave Pollack:
Dave Pollack is a performer, educator, composer, and arranger from Hamilton, New Jersey. He has toured the countries of Australia, Greece, and China with both jazz and R+B groups, and has performed with the Count Basie Orchestra, The Mingus big band, Phil Woods, Randy Brecker and Jon Faddis among others. Dave also teaches privately throughout central NJ and runs an in-home music lesson business called Princeton Home Music Lessons.
---
Rhythm Section:

Joe Spinelli:
Joe Spinelli, 23, is a drummer, composer & arranger based in New York, performing regularly throughout the New York/New Jersey area. He has had the pleasure of recently performing with Rich Perry, Bucky Pizzarelli, and Duane Eubanks.Joe is pursuing his Master's degree in Arranging/Composition at William Paterson University on full scholarship, studying with Jim McNeely, Cecil Bridgewater, Pete McGuinness and Bill Charlap, and sharing the stage with greats like Joe Lovano, Jimmy Heath, and Benny Golson.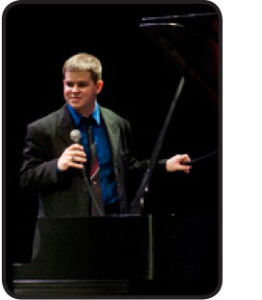 Billy Test
An amazing young talent, Billy has been featured in many solo residencies at the Kitano and is a member of the American Repertory Jazz Orchestra. He made his Carnegie Hall debut in 2012, is the accompanist for Essential Voices USA, and a member of the New York City Pops Orchestra. Billy is a Masters Student at the Manhattan School of Music and graduated from William Paterson University.
Daseul Kim:
Born in South Korea, Kim's musical journey started thousands of miles from his current home in New Jersey. Already a respected performer in his homeland, it was the call of jazz that led Kim to the United States, where he is quickly gaining a reputation as one of the most promising bassists on the New York scene. Daseul's debut album—Relationship—featured a guest appearance by PJ Rasmussen.
---
Other Boardwalk Jazz performers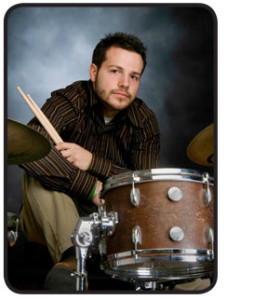 Jon DiFiore: A drummer and composer, Jon recently released his second album—Yellow Petals—on the Third Freedom Music label. He made his Lincoln Center debut in May of 2011, and has performed with the New Jersey Metropolitan Orchestra. In 2010 he was honored to perform as a featured soloist at the Percussive Arts Society's New Jersey Day of Percussion.
Nate Giroux: Nate and PJ met at William Paterson University and built a friendship on their passion for music. A young and innovative sax player, Nate was both a performer and confidante on PJ's two albums. Nate has performed at jazz festivals in Detroit, Pittsfield, and Villanova.

---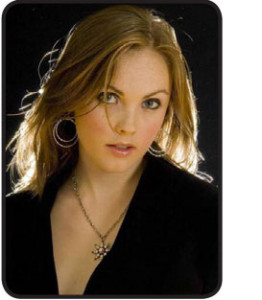 Cassandra Kubinski: Billy Joel said that Cassandra Kubinski "proves that the (singer/songwriter) genre can still be transcendent." Touring from the US to Germany to Jamaica, Cassandra's music has supported acts such as Anna Nalick, Dickie Betts, and Ingram Hill. You've heard her songs on NBC, "Dance Moms", "Real Housewives of Miami," the Food Network, E! News, and more. Her latest album, "Just Being Myself", features trumpeter Chris Botti and 16 songs spanning love, loss, nature, flirtation,and celebration. PJ and Cassie have performed together in New York at several venues.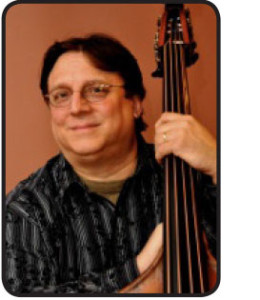 Steve Laspina: A prominent bassist on the New York and national scene for over thirty years. He has played and recorded with many great musicians in jazz history. He was a regular band member, toured and recorded with saxophonists Benny Carter, Stan Getz and Phil Woods, vocalists Joe Williams and Mark Murphy, trumpeters Clark Terry, Chet Baker and Randy Brecker, and guitarist Pat Martino. He has spent the last decade traveling around the world and recording with the legendary guitarist Jim Hall, has appeared on six of his recordings, including These Rooms featuring Tom Harrell.
---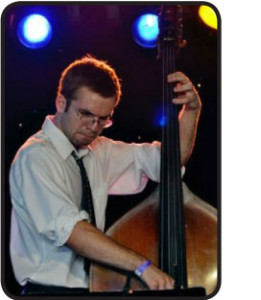 Adrian Moring: A member of the PJ Rasmussen Quartet, Adrian and PJ began their musical collaboration at William Paterson University. Adrian is a versatile bass player and is also featured on Jon DiFiore's latest album.
---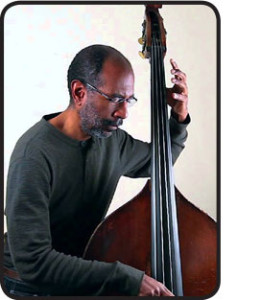 Marcus McLaurine: A New York bassist for the past 33 years who has performed with several notables of Jazz including Clark Terry, Kenny Burrell, Jon Hendricks, McCoy Tyner, Abbey Lincoln, Cleo Laine, Lou Donaldson, Abdullah Ibrahim, The Lionel Hampton Orchestra and The Count Basie Orchestra. Marcus has travelled extensively to Europe, Japan, Canada, South Africa, New Zealand, Barbados as well as throughout the United States.
---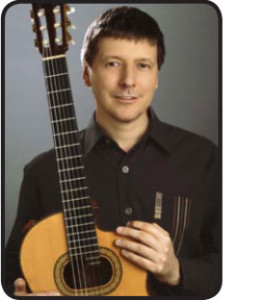 Paul Meyers: Hailed by the New York Times as "one of the most eloquent jazz guitarists since Kenny Burrell," Paul has performed with an ever growing list of jazz greats. He toured for years with two of the greatest jazz singers ever, Jon Hendricks and Andy Bey. Paul has performed extensively overseas, is a very active member of New York's vibrant Brazillian Jazz scene and one of PJ Rasmussen's instructors and mentors.
---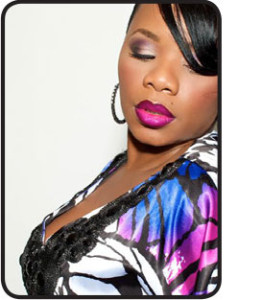 Khadijha Mohammed: New Jersey born Khadijah spent several years touring the world as an in-demand back up vocalist for major artists including Lenny Kravitz, P Diddy, R&B singer Sunshine Anderson and the legendary Luther Vandross. She is fast becoming one of the stars of the next generation of hit songwriters. A mutual friend connected Khadijah and PJ and they recently played their first gig together.
---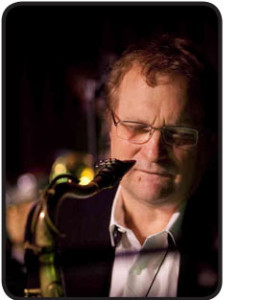 Rich Perry: A Grammy award winning jazz tenor saxophonist who first toured with the Glenn Miller Orchestra in 1975. He has been a member of the Vanguard Jazz Orchestra since the 1970s and is a founding member of Maria Schneider's Orchestra. He is an adjunct faculty member of the William Paterson University Jazz program.
---
Bucky Pizzarelli: A legend who first played in Asbury Park at the Berkeley Cartaret Hotel in the 1940s. He has played and recorded with generations of top names from Benny Goodman to Paul McCartney. Bucky is on Ray Charles' classic recording of "Georgia on my Mind" and countless other albums. He's a true showman, one of the most familiar names in the jazz world, a Member of the ASCAP Jazz Wall of Fame and the New Jersey Hall of Fame. PJ was fortunate to study under Bucky during his time at William Paterson
---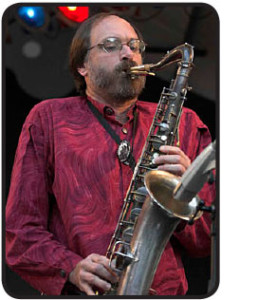 Scott Robinson: One of today's most wide-ranging instrumentalists, Scott Robinson has been heard on tenor sax with Buck Clayton's band, on trumpet with Lionel Hampton's quintet, on alto clarinet with Paquito D'Rivera's clarinet quartet, and on bass sax with the New York City Opera. He added four new Grammy's to his collection this year and was selected by the US State Department to be a Jazz Ambassador for 2001.
---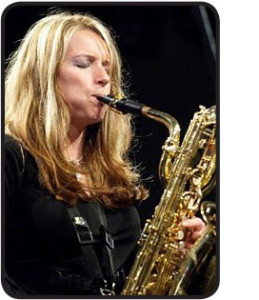 Lauren Sevian: Grammy award winning saxophonist Lauren Sevian has been performing professionally since the age of 12, first on the piano, then on the saxophone. At the age of 16 she won the Count Basie Invitational soloing competition, which led to a feature performance with the Basie Band. By the age of 17 she had already performed at Carnegie Hall, Lincoln Center, & the Village Vanguard. Among many other credits, Lauren is a member of the Charles Mingus orchestra.
---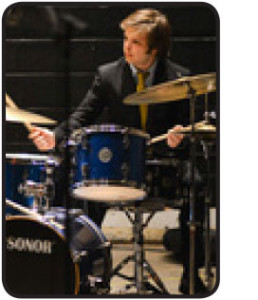 Ryan Palermo: Jazz drummer and percussionist Ryan Palermo is recognized for his distinctive melodic style and compelling manipulation of musical vocabularies. His energy as a performer draws his audience in, and his exploration of a wide range of musical influences makes each performance unique. In addition to leading his own quartet, Ryan has performed with jazz luminaries Wynton Marsalis, Paquito D'Rivera, Conrad Herwig, Ralph Bowen, Frank Lacy, Vincent Herring, Jim Rotundi, Tom "Bones" Malone, Vic Juris, Walter White and Mike Smith. He is a graduate of the William Paterson University Jazz Studies program.
---
James Weidman: According to the New York Times, James Weidman is a "pianist with a broad resume and a graceful style who decorates a song like many decorate the favorite room in their house – one carefully-chosen piece at a time." He has been a welcomed presence on myriad bandstands, including the world's major venues and festivals including the Montreux, Monterey, Newport, North Sea and JVC Jazz Festivals, Carnegie Hall, Birdland, Blue Note, Sweet Basil, Village Vanguard, Iridium and Jazz Standard.