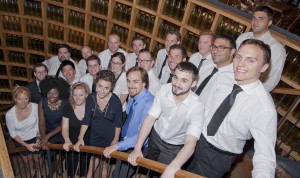 The Boardwalk Jazz Band, led by PJ Rasmussen, is NYC's only 21-piece band that features four vocalists and almost entirely original music. Their 2016 national TV special "An American Christmas: with PJ Rasmussen and the Boardwalk Jazz Band," combines youthful enthusiasm and holiday cheer with the simple belief that jazz is music anybody can love. Appearing on over 160 stations nationwide, An American Christmas features fresh arrangements that transform old holiday favorites into new treasures. The show also features two original pieces, one of which includes special guest and jazz legend Bucky Pizzarelli. For a complete list of stations and times in your area, click here.
The band will also be featured in another television special during the summer of 2017. That performance will showcase the band's original music written by PJ Rasmussen.
Rather than seeing jazz as a dying art form that needs to be preserved, the Boardwalk Jazz Band shows every time they take the stage that their music can get feet tapping, hearts racing, and audiences cheering.  PJ Rasmussen started Boardwalk Jazz in 2014 to build a new generation of Jazz fans and to challenge the idea that jazz is "high art," not for the common listener. Initially based on the boardwalk in Asbury Park, New Jersey, the inaugural run featured a variety of guests: legends like Bucky Pizzarelli, modern titans like Scott Robinson and Rich Perry, and a host of young talent, designed to show that the music was still alive and kicking in the present day.

Boardwalk Jazz has evolved from a concert series into a show. Rather than focus on the jazz standards of a bygone era, the band's music spans a wide range of modern sounds and styles while remaining true to PJ Rasmussen's jazz roots. There is new music at every show. Also sprinkled in are a few carefully selected covers, providing fresh takes on everything from gospel music to Led Zeppelin, Elvis, and more. Boardwalk Jazz is a modern embodiment of Duke Ellington's famous statement: "There are two kinds of music— good…and the other kind."
Follow PJ Rasmussen and Boardwalk Jazz on Social Media:
@BoardwalkJazz, @PJRasmussenJazz #Boardwalkjazz